FOOTBALLSCARVES.NL
This is a site for football scarf collectors and football fans interested in football scarves. My name is Rob Vonk, fan of F.C. Utrecht and scarf collector. The main part of this site contains pictures of scarves of my personal collection. You will find all pictures of the scarves under 'scarves' and the latest additions under 'News'. All over the world you will find scarf collectors, collecting Football Scarves unites! Reason for a lot of collectors among us to use the logo of Scarves collectors united which you can find on the home page. Under 'links' you will find internet links to the sites of other scarf collectors. Among them are the Scarf Collectors Holland, Dutch scarf collectors who are exchanging scarves but also visiting football matches together in Germany,Belgium and other countries twice a year and who are proud to wear the Scarf Collectors Holland scarf. The football scarf is one of the most popular attributes of the fanatic football fan. Under pictures you will find impressive pictures of fans expressing their love for their favourite club. The site could not have been launched without the help of Wim van de Gein who did most of the development and design. Please feel free to send me a mail with comments, questions or suggestions by using 'contact'.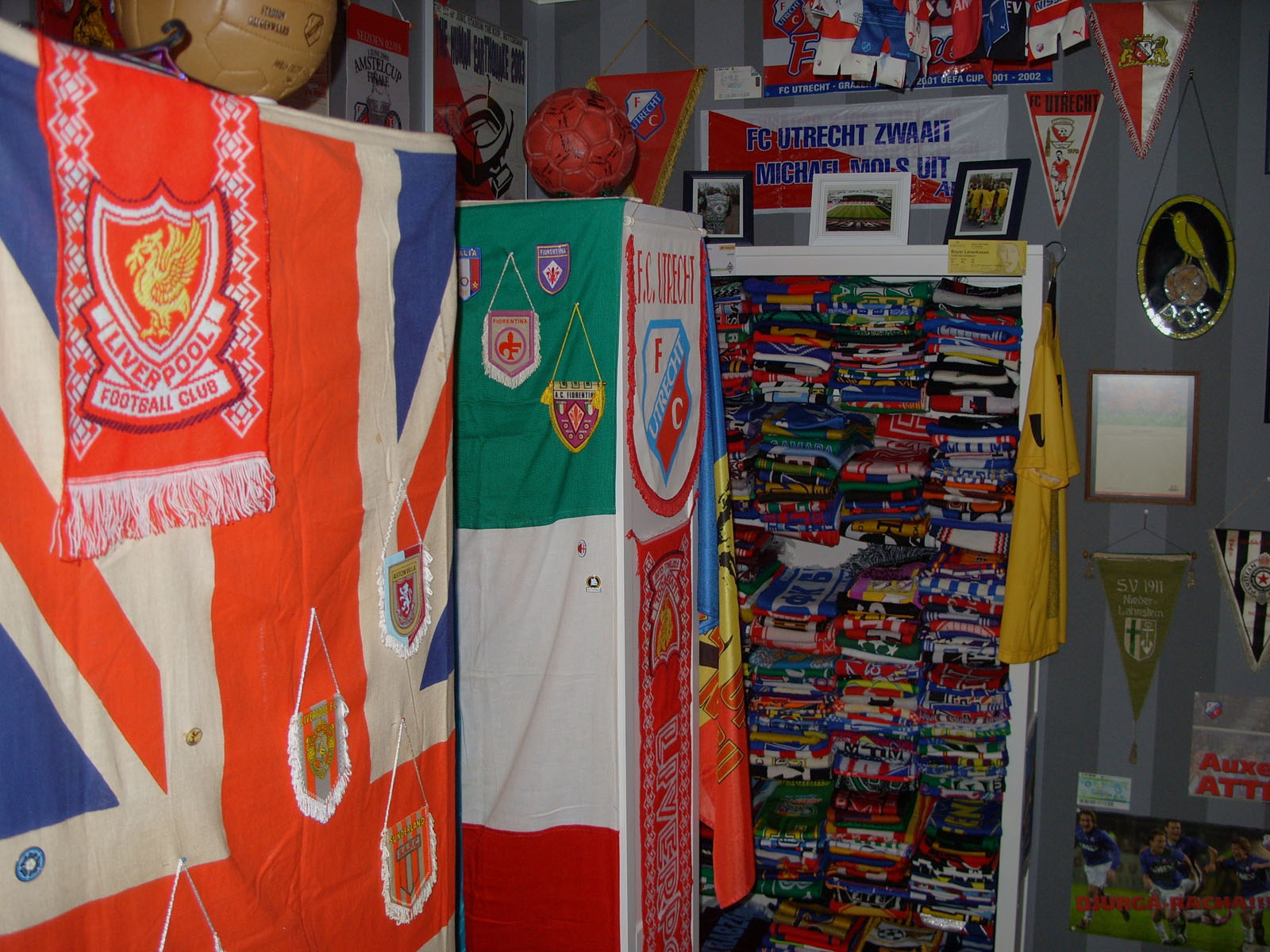 Why collecting football scarves ?
The football scarf has always been the most popular fan attribute. Rosettes, umbrellas are out, flags, caps and banners are back again, the number of club shirts in the crowd has grown the last 5 to 10 of years but the scarf was and will be number one. 50 years ago used for practical reasons at matches in wintertime, made of wool showing the club colors. Quite a difference with today : silk or wool, knitted or woven, for country, club, side, group, match or player and even anti-scarves and friendship scarves. Every scarf has its own story, tells you something about the club like triumphs, logo's, colors and history. If your interest in football goes deeper than the game itself collecting scarves is a very nice hobby. Combining it with shirts, mini-shirts, tickets, programs, pins, books or pictures is an option but space and probably money will limit you. My advice is : or collect everything from your favorite club or choose for a fan attribute. I made my choice : football scarves.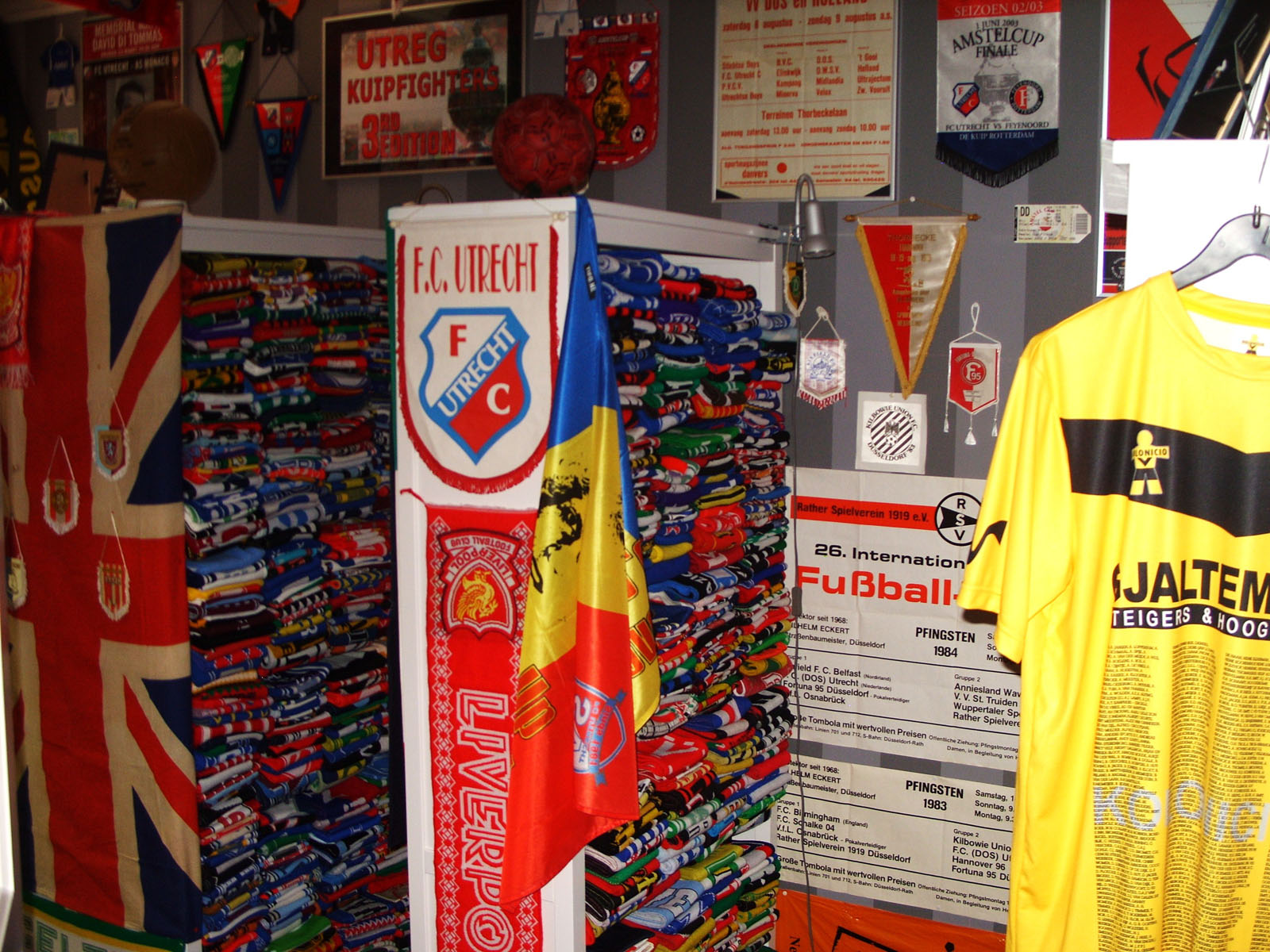 Where do they come from ?
Most of the scarves are bought in fanshops, via internet sites, on holidays, on football collector fairs or given by friends.When visiting matches in England, Germany,Belgium or in the Netherlands buying one or more scarves is a must for the serious collector. Today, merchandising is a cash cow for most of the clubs and the fanshops are selling a wide range of scarves. One of my main 'suppliers' is Jelmer Boots, one of the Scarf Collectors Holland members and Heerenveen fan with an impressive scarf collection. Under 'links ' you will find the link to his site. Jelmer gave my collection a boost in the period 2004 – 2007. Hans Seegers, fanatic N.E.C. – Nijmegen fan gave me via Marktplaats the chance to expand my collection of scarves of French, German and Austrian clubs. SCH member Sybrand Andringa added a lot of Liverpool and Borussia Dortmund scarves to the collection and another SCH member Marco Remijnse did the same with scarves of clubs from Argentina, Brazil, Bulgaria, Germany, Russia and Turkey. Visiting other countries during holidays is a good opportunity to buy scarves that you will never find on internet or at football collector fairs. In the summer of 2007 I bought several scarves in Sweden and Russia. In 2008 we made a trip through Spain and Portugal and visited big cities and some stadiums. The result was 36 scarves and a very heavy suitcase resulting in an heavy fine at the airport. Same story for 2009 (Italy), 2011 (Poland) and Turkey (2013),all football crazy countries. At football collector fairs most of the collectors and traders are there to buy and sell books, pictures(Panini),tickets and programs. The atmosphere at these fairs is very good because all people have two things in common : crazy about football and crazy about collecting. The challenge for me is to find the few people offering scarves and to ask the 'I collect and sell everything' people to bring scarves with them next time. Thanks to Wim Boels and Kris van Elst from Belgium I was able to add some beautiful Belgium club scarves to my collection when they visited the fair in Houten (NL) and brought scarves with them on my request. Thanks to another frequent visitor of the fair, Hubert Buter I have been able to add some special F.C Utrecht match scarves and Champion League scarves to the collection and F.C. Utrecht fan Steve Uiterwaal is checking Internet almost every day if there are scarves for sale which are not yet in my collection. Thanks to him many F.C. Utrecht scarves from the seventies and eighties are in the collection now resulting in a total of more than 200 F.C. Utrecht scarves.When friends are hearing about my collection and are going on holiday they often bring scarves with them.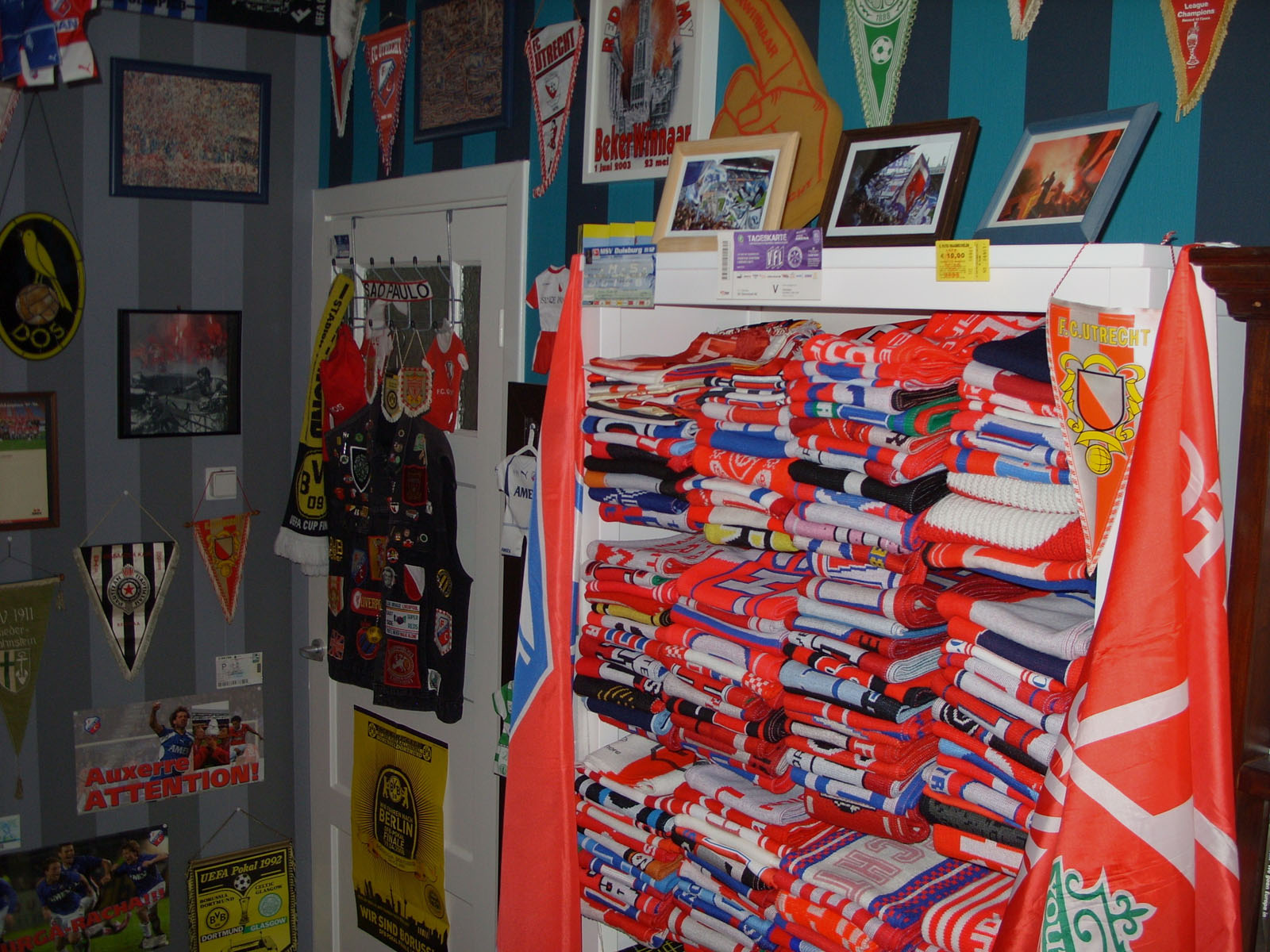 Future
Today I have collected more than 2600 scarves (November 2020). Some collectors are choosing to focus on a country (England), continent (Europe), club or on Ultra scarves (Holland scarf collector Wouter Snall). For the time being I have not made a choice and I will be happy to add any scarf from a club not yet in my collection. It would be nice if I can announce that a scarf from all clubs in the Premier League, Serie A, Bundesliga, Ligue 1, Primera Division and Eredivisie is in my collection. Another challenge is to keep this site up to date and keep it interesting for visitors. Again, feel free to send me a mail with comments, questions or suggestions .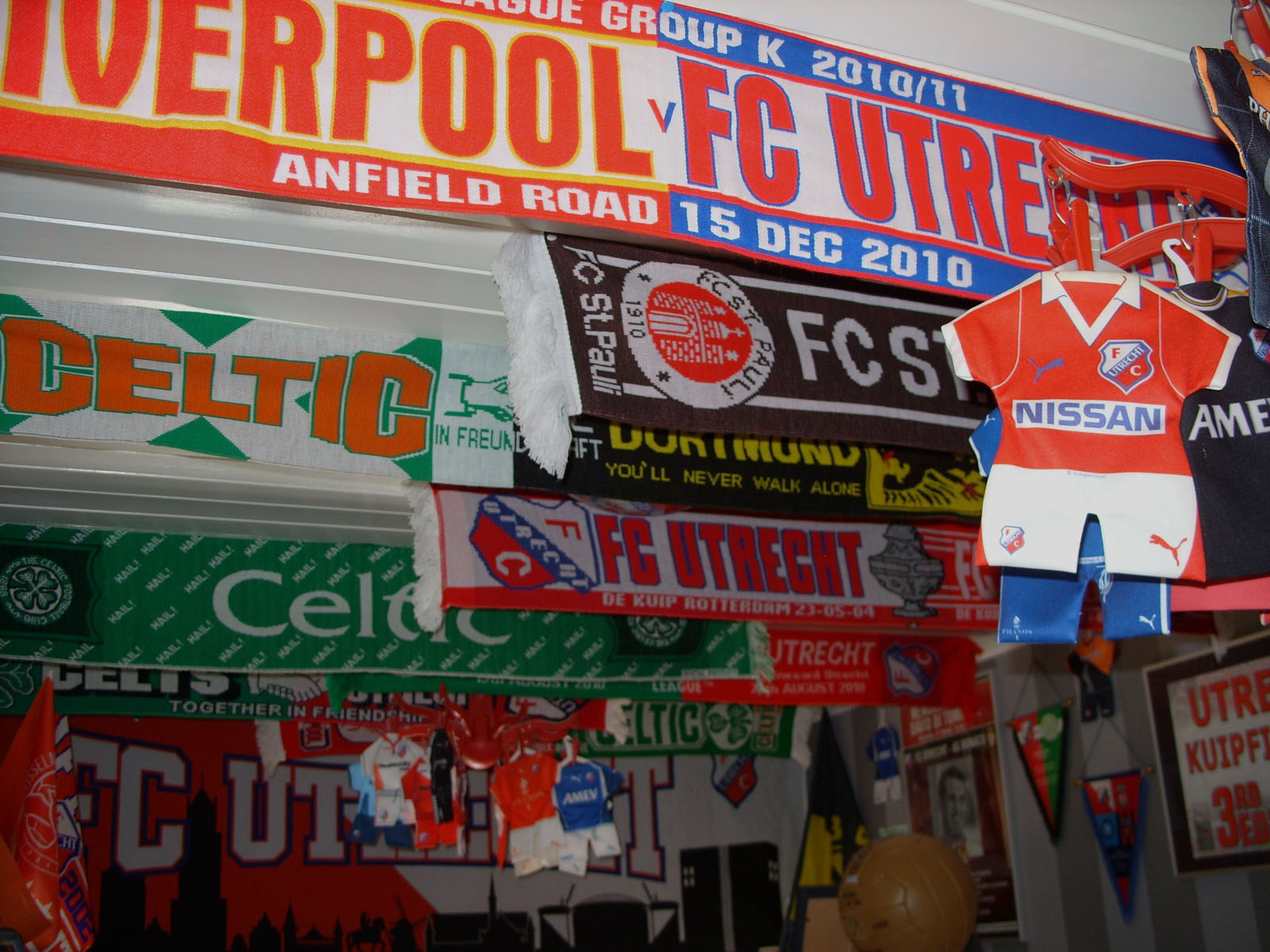 Rob Vonk